There is a relationship that exists between the Church, Christian Business, and Christian Higher Education. It is a relationship that completes the parts, making the whole greater than the individual parts.
Christian Higher Education is in place to produce trained personnel for the marketplace/Christian Business and individuals to work in Churches (volunteers and professional)…not that higher education is a requirement to have a job or volunteer in churches. However, the leadership and professional development opportunities are intended enhance the abilities of each individual that goes through the discipline of higher education. The intent of Christian Higher Education is to prepare individuals for their calling. That vital preparation is a weighty responsibility for the higher education institution.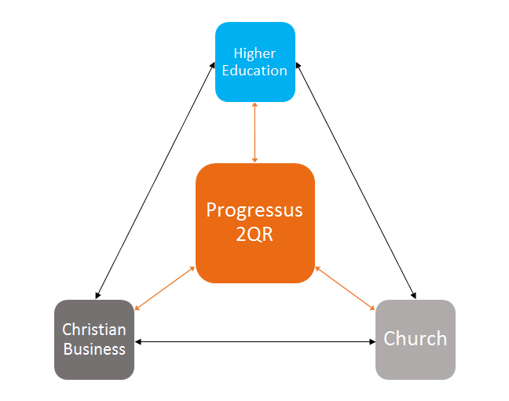 The Church, as an institution, is intended to be about the care of the person on a spiritual level. To that end, the Church provides opportunities for spiritual development for community members, including worship service, Bible study, Sunday School, pastoral care and counseling, and other outreach services. In so doing, the Church cares for members of the community including Christian Business. Additionally, because of the Biblical basis of the Church, they also have the opportunity to support Christian Higher Education through finances collected from the congregation and by sending parishioners to get their education to the colleges.
Christian Business supports Higher Education and Church through donations, expertise, and volunteers. Christian Business has the opportunity to work in a for-profit environment with Kingdom purposes in mind. The finances generated by the Christian Business can be used to provide funding for programs within the Church and in Christian Higher Education that might not be available through simple tithes, offerings (for the Church) and through tuition (for Christian Higher Education). In addition, due to the wide variety of Christian Business applying expertise out in the field, they have the opportunity to translate that expertise into Church and Christian Higher Education settings. The "real world" within which the Christian Business operates allows them to inform the teaching of the Christian Higher Education institution as well develop good practice within the Church.
The interrelated interests and effects of these three groups has the potential to greatly enhance the intended outcomes of each when they work in cooperation. However, with an effective external stimulus, the intended outcomes are enhanced even further. Progressus and its 2QR®-based education services can help develop each of these so that they continually improve each other.